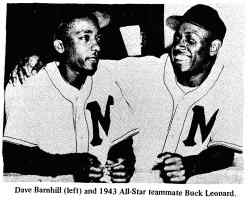 By James A. Riley
Dave Barnhill. He was small, only weighing 130 pounds "when it snowed on him." But on the mound he stood tall, Leon Day, a six-time all star pitcher for the Newark Eagles and a contemporary of Barnhill's, marvels, "That's what I couldn't understand about him. He was so small, but he could throw that ball like he did. Very few people could throw as hard as he did."
A strikeout artist, Barnhill threw so hard that he scared himself. "I was afraid I might hit somebody," he says. Fortunately, his control was as good as his fastball. When he was "right" he could throw as hard as the legendary Satchel Paige. Hall of Famer Buck Leonard of the Homestead Grays, who faced Barnhill year- in and year-out, concurs, "He was a humdinger. He was one of the best we had in our leagues. He threw just as hard as anybody. He was right up there with Slim Jones and Satchel Paige, right next to them."
Indeed, there were some who maintained that there really wasn't any difference between Satchel and Dave. This contention was illustrated one year when Barnhill was recruited to pitch behind Satchel Paige for the Kansas City Monarchs on a barnstorming trip. This particular day the Monarchs were playing the Toldeo Mudhens, a AAA white ballclub. Satch shut out the Mudhens over the first four innings, yielding a single hit while striking out 10 batters. The slightly embarrassed Toledo manager approached Frank Duncan, the Monarch's manager, and said, "Hey, how about putting somebody else in so we can kinda even things up. After all, We're a major league farm club." Duncan looked down to the bullpen where Barnhill was warming up and said, "How about that little guy down there?" The Toledo manager quickly agreed, "O.K., put him in." Dave walked out to the mound, wound up and threw the first pitch - and the batter just stood there with his bat on his shoulder, not believing a little man could throw so hard. And so it went for the rest of the ball game. Dave pitched the last five innings without allowing a hit while striking out 11. After the game Toledo's manager came into the clubhouse and said to Duncan, "You think you're smart, that you pulled a fast one or something." Duncan said, "What do you mean?" Toledo's manager explained, "You said that you'd take Satchel out but you didn't. You just took him over behind the dugout and cut his legs off and put him right back in." Dave chuckles when recounting the incident.
Satchel figured prominently in Barnhill's career. As the "ace" on the New York Cubans' pitching staff, he and Satch were matched up every time the Kansas City Monarchs came to town. Dave remembers, "Normally when Satchel pitched against other teams he would only pitch three innings and if he got one score ahead, he would come out. But anytime he came to play the Cubans, I had to pitch against him so he had to pitch nine innings. He didn't let my team get nothing and I didn't let his team get nothing. We didn't have any of that foolishness about pitching three innings and coming out."
It was the same way in the East-West game, which was the Negro Leagues' All Star game. When Satchel pitched, Dave pitched and when Satch started, Dave started. This classic match-up provided Dave with his biggest thrill in baseball, as he and Satchel were the opposing pitchers starting the 1943 All Star game at Comiskey Park in front of 52,000 fans.
Some might think that this would make anyone nervous. After all, facing a legend in front of 52,000 screaming fans is a far cry from playing stickball in the streets of Greenville, North Carolina, where he learned his baseball skills as a youngster. But Dave Barnhill was always cool and collected on the mound. He recalls, "When I walked out of the clubhouse and saw all those people, then I wanted to put on my big show. That ain't no time to be nervous."
And the record backs up his claim. In his three All Star appearances from 1941 through 1943, he pitched a total of nine innings, giving up only two runs, while striking out six batters. This was accomplished against the best in the Negro American League, including such stalwart hitters as Cool Papa Bell, Newt Allen, Alex Radcliffe, Neil Robinson, Ted Strong, Buck O'Neill, Parnell Woods, Willard Brown and Jimmy Crutchfield. The veteran Crutchfield, who was then playing with the Chicago American Giants, vouches for what the Toledo players had found out earlier. "There were days when he could throw as hard as Satchel." Hard-hitting All Star outfielder of the Newark Eagles, Johnny Davis (who had to face Barnhill all season long), picks Dave as the pitcher who gave him the most trouble. Hall of Famer Cool Papa Bell is more direct and to the point: "He threw smoke."
It was during these halcyon years that Barnhill received the first hope that he might get the opportunity to pitch in the major leagues. In a telegram dated July 24, 1942 (more than three years before Robinson signed with the Dodger organization and before any black player had a tryout with a major league team), he received the following message from Sports Editor Nat Low: HAVE JUST ARRANGED WITH WILLIAM BENSWANGER, PRESIDENT PITTSBURGH PIRATES, A TRYOUT FOR YOU WITH TEAM IN PITTSBURGH SOON. CONGRATULATIONS. WON'T YOU PLEASE GET IN TOUCH WITH ME SO THAT WE CAN MAKE FULL ARRANGEMENTS?
For whatever his reasons, Benswanger backed out of his commitment, denying Barnhill a chance to be the first black player in Organized Baseball in modern times. Regarding the incident, Dave remembers, "He (Benswanger) was scared to take a chance."
Dave wasn't discouraged. He knew from his barnstorming trips that he was good enough to play in the major leagues. He continued his winning ways in the Negro National League, coming back from a sore arm to team with Luis Tiant, Sr., and pitch the New York Cubans to a championship in 1947. Neither he nor Tiant lost a game during that season. He also picked up another victory in the Negro World Series that year, shutting out the Negro American League champion Cleveland Buckeyes, 6-0, as the New York Cubans took the series four games to one. That winter Dave went to Cuba for the first of three winters that he spent with the Mananao team. He led the league in strikeouts while compiling a 2.26 ERA. One game, played January 10, 1948, was especially noteworthy. In this game Barnhill locked up with Connie Marrero, who was to spend five major league seasons with the Washington Senators, in a 15 inning 0-0 marathon in which Dave struck out 15 batters while allowing only two walks and five hits before the game was called. In the opposing lineup were future major leaguers Monte Irvin, Sam Jethroe and Dee Fondy as well as Negro League All Stars Gene Benson and Pee Wee Butts.
The next winter Dave did even better, leading the Cuban League in victories as well as completed games. The Giant organization signed him and Ray Dandridge, veteran black third baseman, to contracts. Buck Leonard states, "Now you take Dandridge and Barnhill, they could have gone right on to the majors." Ray Dandrige himself agrees and says of Barnhill, "He was one of the best pitchers there was. During that time he was great." But the major league "powers-that-be" thought that black players needed time in the minors to adjust to playing with white players. And although both Barnhill and Dandridge had been playing with white players for years in the winter leagues, they were sent to the Giants' AAA farm team, the Minneapolis Millers. There they pitched and batted the team to the championship in 1950. Dandridge batted .311 and earned MVP honors while Dave compiled an 11-3 won-lost record. This earned him a second brush with the major leagues.
Dave remembers, "The year we won the championship, Leo Durocher was going to call me up because I had a pretty good year and he was going to call me up like they do a lot of ballplayers at the last part of the season. Let them play with the major leaguers. But we got into a play-off. I told Dandridge, "My goodness, I could have gone up and got a cup of coffee and come on back."
But it was never to be. By then Dave was 36 years old and past a player's prime, instead of going to the major leagues he stayed at Minneapolis and helped launch a youngster named Willie Mays. Later the Giants sent him to Oakland in the Pacific Coast League. From there he returned to Florida to be near his family and pitch for Pepper Martin's Miami Beach Flamingos. He closed out his O.B. career with Fort Lauderdale in 1953.
After ending his baseball career, he began work for the Miami Department of Recreation and Parks, from which he just recently retired. A handsome plaque presented to him by the Miami City Commission upon his retirement reads as follows: TO DAVE BARNHILL IN GRATEFUL APPRECIATION FOR YOUR OUTSTANDING DEMONSTRATION OF SKILLS AND DEVOTION TO DUTY WHILE EMPLOYED BY THE CITY OF MIAMI FROM SEPTEMBER 1953 THROUGH JANUARY 1981. YOUR PERFORMANCE HAS BEEN AN EXCELLENT EXAMPLE TO THOSE WHO WORKED WITH YOU. This vividly describes the qualities that made Dave the kind of ballplayer he was as well as the kind of man that he is.
Today, Dave Barnhill lives in Miami with his gracious wife, Susie, and their lovely daughter, Scherry Lee.