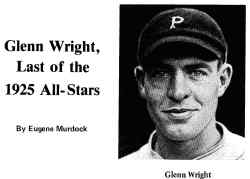 By Eugene Murdock
When you ask a man who has made an unassisted triple play what his biggest thrill in baseball was, you expect him to say "making an unassisted triple play." But this is not the case with Glenn Wright, star shortstop with Pittsburgh and Brooklyn from 1924 to 1933. "It was before the opening game of the 1925 World Series at Forbes Field," Wright recalled. "Each team was lined up along the foul lines and the Pittsburgh Symphony Orchestra was in centerfield where the flag was being raised. A famous Italian opera star then sang the `Star-Spangled Banner.' She had a wonderful voice. This may sound a little corny today, but that experience sent cold chills up and down my spine. That was my biggest thrill."
As for the unassisted triple play, "that was one of the easiest plays I ever made," Wright says. "I couldn't help it. It was May 1, 1925, and we were playing the Cardinals in Pittsburgh. Jim Cooney was on second, Rogers Hornsby on first, and Jim Bottomley at bat. Jim hit a line drive toward second base. I took a step and caught the ball, and with Cooney well on his way to third, I merely stepped on second doubling him up. I intended to throw to first for the third out and had started my motion, but Hornsby was in the way. Since I didn't always hit the first baseman anyway with my throws, I decided to run over and tag him since he had no time to reverse directions. After I put the ball on him he said, `nice work, kid.' We were in the dugout before the fans realized they had seen an unassisted triple play. But it was an easy play; I've made many more difficult ones."
Although Glenn embarrassed Hornsby on that play, he says it was "the Rajah" who gave him more batting help than anyone else when he first came up in 1924. The Pirates stayed at the Chase Hotel in St. Louis where Hornsby had rooms. They spent many hours in the lobby talking baseball.
"The most important thing I learned," Wright remembered, "was to stand deep in the batter's box. I didn't stand as deep as Rogers did, but I stood far enough back so I could see the curve ball break. I always said that a curve was an easier pitch to hit than a fast ball, because you could see it break. A fast ball coming in with a little jump was harder to judge."
Whether it was Hornsby's help or natural ability, Wright became a fine hitter. He had four .300 seasons, his best being .321 with Brooklyn in 1930. He drove in over 100 runs on four different occasions and was Pittsburgh's all-time home run leader for many years. He also held the NL mark for most home runs by a shortstop-22 in 1930-until Alvin Dark hit 23 in 1953. "I never knew I had that record," chuckled Wright, "until I read that Dark had broken it."
Actually Glenn hit 23 home runs in 1930, but one was taken away from him. He was with the Dodgers then and so was Babe Herman. "We were playing the Cubs," he reflected, "and it was a close game. We had two men on and I hit a fly ball to left. I wasn't sure it would reach the bleachers, so I put my head down and turned on the gas. I remember stepping on somebody's foot at first base, but didn't think much about it so intent was I on getting around the bases. I noticed a lot of traffic at second, too, as I finally looked up and saw the ball in the bleachers. Well, I had passed Babe Herman and somebody else on the base lines and wound up with a single for my home run. That would have given me 23. And you know, the day before that happened, Del Bissonnette had hit one out of the park and he also passed Herman on the base paths."
Wright was a good fielder as well as a good hitter, and a number of his peers rated either himself or Travis Jackson as the best shortstop in the National League. He had range and a very strong arm. However, he was not very accurate. When he was in Kansas City in 1922 and 1923 prior to his sale to Pittsburgh, he acquired the sobriquet "Buckshot" because "I could throw hard, but no one could tell where. Charlie Grimm at Pittsburgh was my best first baseman in jumping around to catch the ball, while Del Bissonnette at Brooklyn was my best first baseman in scooping the low throws out of the dirt." However, that may be, Glenn Wright set a major league record for shortstop assists in his first year with Pittsburgh in 1924, 601, a record which no one has approached even to the present day.
Glenn was born in Archie, Missouri, a tiny town not far from Kansas City, on February 6, 1901. His father operated a hardware store and Glenn helped out by running errands and servicing customers. He played no high school ball, since there was no team, but he did play sandlot ball on an area club which scheduled games with teams from other places like Kansas City. He pitched and played shortstop. While attending the University of Missouri from 1919-1921 he continued to play with his local club. After a game with a team from Kansas City, a member of the other squad told someone in the Kansas City Blues organization about Wright. He shortly received an offer from John Savage, general manager for the Blues, and signed a contract in 1921 for $200, "a tremendous salary for a farmboy. I wasn't ready for Double-A ball, however, so Kansas City sent me to Independence, Kansas, of the Southwestern League for the 1921 season. I hit .316 and we won the pennant."
Wright was ready for the Blues in 1922 and within a month moved into the shortstop slot. The manager was Otto Knabe, who took a dislike to Wright and did not play him. But club owner George E. Muhlebach fired Knabe early in the season, and the new manager, Bill Good, began playing Glenn regularly. He took part in 142 games and hit .299 that year, while in 1923 when the Blues won the pennant, he played in 153 games and hit .313. "That was a good team at Kansas City," Glenn recalled. "When Jimmy Zinn was pitching for us, everyone in the lineup was hitting over .300. We had Bill Skiff catching, Bunny Brief, Lena Blackburne, George Armstrong, and myself in the infield, and Dutch Zwilling, Bill Good, and Beals Becker in the outfield. We were pretty tough."
That year the Junior World Series, in which Kansas City played Jack Dunn's mighty Orioles, went to nine games before the Blues triumphed. It was Wright's only real experience batting against Lefty Grove. "The first pitch he threw went behind me. Many years later I asked Lefty if he remembered that first pitch in the 1923 Junior World Series. `Sure,' he replied, `it went behind you, but I didn't mean it to.' If I had known that," confessed Glenn, "I'd have been even more scared."
One pitch that did not go behind Wright was thrown by Vic Keen of the Cardinals, a mild-mannered, devout young man, who wouldn't pitch on Sundays. "There was a huge crowd," said Wright, "with lots of white shirts in center field. I don't know if I froze or just didn't see the ball, but it hit my cheekbone with a crack-I am told-like a rifle shot. Sam Breadon drove me to the hospital where I remained unconscious for 32 hours. Keen thought he'd killed me and so did everyone else. I was back in the lineup in six weeks, but Vic was finished; he wasn't worth much after that."
"The day I returned to the lineup," he continued, "we were playing Brooklyn with Burleigh Grimes pitching and he knocked me down with the first pitch. I'm scared to death anyway, but while I was lying in the dirt I decided I had better do something about it or I'd be finished like Vic Keen. So I got back up and drove the next pitch on a line right up the middle nearly decking Burleigh. I was all right after that. Then a few days later Grimes was on first base and the ball was hit to second base. I took the throw for the force out and with Burleigh coming straight at me I fired right at him and he hit the dirt in a hurry. When he got up, he brushed himself off, walked over and said, `Gee whiz, Glenn, I think you tried to hit me there.' I said, `Burleigh, I don't know why you would think that. I know you never tried to hit me when I was batting.'"
After his fine 1923 season with Kansas City, Wright was purchased by Pittsburgh for $40,000. The Yankees actually offered Muhlebach $100,000 for him after seeing him perform in the Junior World Series, but since Pittsburgh already had an option to buy, they got him. But Glenn would not sign with Pittsburgh for 1924 unless he got a portion of the purchase price. Muhlebach was not going to give him any money since he was now Pirate property. Finally, Barney Dreyfuss gave him a $7,500 bonus, which was interpreted as part of the purchase price, "But it didn't last long," Glenn adds.
When he reported for training in 1924, Manager Bill McKechnie told him the shortstop job was his and it remained his through the 1928 season when he was traded to Brooklyn for pitcher Jess Petty. "We had a lot of young shortstops coming up and Donie Bush needed some pitching. And Uncle Wilbert Robinson liked the way I hit at Ebbets Field. In fact, he made me team captain the first year I was there. I didn't play much in 1929 because of a shoulder separation I suffered over the winter, but after that I got in three or four pretty good years."
"One of my duties as captain," Wright continued, "was to remove the pitcher on orders from the bench. Well, this day at Philadelphia they were knocking Walter Beck all over the lot, and I went in to take him out. But he was mad at himself and wouldn't give me the ball. Finally, he turned and fired it against the metal rightfield fence. Our rightfielder, Hack Wilson, was daydreaming out there, but when he heard the ball rattle off the fence, he hopped on it and fired a strike to second base. Then seeing no one running he came charging in to see what was going on. When he learned what had happened he was ready to murder Beck. I had to keep them apart. From that time on it was Boom Boom Beck. I know there are a dozen stories of how Walter got that nickname, but that's my version, and I'm going to stick to it."
Those were happy times for ballplayers, according to Glenn Wright. Living together, the horse-play and card games, going to movies in a crowd; it was like a big family. Rabbit Maranville kept the players loose at Pittsburgh and Lefty O'Doul did the same at Brooklyn. Even when Jim Thorpe held Maranville by one arm out a fifteenth story window and had him dangling helplessly above busy Manhattan, everybody was having a good time, most of all the Rabbit. "We all knew Jim wasn't going to drop him, or at least we were pretty sure he wasn't." As for O'Doul, "He was a born politician. He knew what his batting average was all the time, and before we were in some new town half an hour, Lefty knew everybody in the place."
Were the Yankees the best team in history? Yes, in Glenn Wright's view, and he should know since they demolished his Pirates in four games in the 1927 World Series. "But you know," he adds, "we were in every one of those games until nearly the end. We were not really outclassed; there were some pretty good games. And in that final game, that was no wild pitch John Miljus threw which allowed the winning run to score. Johnny Gooch called for a curve ball and curve balls should be low. But this one was high. It was catchable, but Johnny didn't react quick enough and it bounced off his glove. I don't think it was a wild pitch."
At 78 Glenn Wright lives with his wife of many years in a comfortable, well-furnished home in Fresno, California. He has had a cancer operation on his right jaw and has a mild heart condition, but he gets around quite well. He does a little scouting, and frequently attends the games of the Fresno Giants in the Class A California League. He also follows closely the fortunes of the Fresno State University baseball team. So there is plenty of good baseball around to keep him occupied in his retirement. Both Glenn and his wife are active in Masonic and church affairs and quite often old-time ball- players drop in on their way through town. While he no longer has a large number of mementos from his playing days with him, he has the memories of a career which not too many shortstops, past or present, can match.
When The Sporting News began selecting its annual All-Star Team in 1925, Wright filled the shortstop berth. The other members of this first major league team were lB Jim Bottomley, 2B Rogers Hornsby, 3B Pie Traynor, outfielders Kiki Cuyler, Max Carey, and Goose Goslin, catcher Mickey Cochrane, and pitchers Walter Johnson, Ed Rommel, and Dazzy Vance. Wright is the only survivor of that great aggregation.