THE TRADITION OF SELECTING a Rookie of the Year in the major leagues dates back to 1946. Late that year The Sporting News introduced a new award honoring the top freshman performer and chose outfielder Del Ennis of the Philadelphia Phillies as the initial recipient. The following year the Baseball Writers' Association of America also began naming the majors' top rookie. Both the BBWAA and The Sporting News picked first baseman Jackie Robinson of the Brooklyn Dodgers in 1947. Two years later TSN and the BBWAA each began choosing the No. 1 rookie in each league. The Sporting News split the honor even further starting in 1957 by selecting a rookie player and rookie pitcher for each league.
But, many of us wondered, who were the best rookies in the seasons prior to 1946? Were Walter Johnson in 1907 and Babe Ruth in 1915 the outstanding American League rookies for those years? Did National League greats Paul Waner, Mel Ott and Dizzy Dean rate as the best first-year men in 1926, 1927, and 1932, respectively? And what about Carl Hubbell, Lefty Grove, Stan Musial and Ted Williams? Following a conversation several years ago between Marty Appel, then of the Commissioner's office, and SABR founder Bob Davids, it was decided to conduct a poll to determine who the leading rookies were for each league in each pre-l949 season.
Over the course of several years ballots listing the top several rookies for each year in both leagues were sent to the SABR membership, which responded in a most enthusiastic manner. The winners who were chosen by the collective wisdom of SABR are presented in the accompanying table. The voting was done on a 5-3-1 point basis for first, second and third places, the same method used in the BBWAA's current selection process. To be considered a rookie, a player could not have had more than 90 official at-bats or have pitched more than 45 innings in previous major league seasons. Thus, Joe Jackson, who batted .408 for Cleveland in his first full year, 1911, was not eligible for consideration because he had accumulated 115 at-bats in the previous three seasons.
The winners have included such Hall of Famers as the aforementioned Ruth, Waner, Dean and Williams, as well as Christy Mathewson, Rogers Hornsby, Joe DiMaggio and others. They also have included such relatively obscure players as Glen Liebhardt, Homer Smoot, Tommy Long and Ed Morris. They have ranged in age from 20-year-olds like Ruth, Hornsby, Mathewson and Chief Bender to Joe Berry, who was 39 in his rookie season of 1944.
For many winners their rookie year was the best they experienced in the major leagues. This category would include American League winners Russ Ford, Scott Perry, Hugh Bedient, Homer Summa, Wilcy Moore and Jake Powell. Some National League winners whose rookie year was their finest were Jack Pfiester, George McQuillan, Larry Cheney, Jim Viox, Hack Miller, Dick Cox and Cy Blanton.
Although Grover Alexander in 1911 had what is considered to be the best rookie season of any pitcher, his selection by SABR voters was not unanimous. Nor were those of Ruth, Williams, DiMaggio, Hornsby, the Waners, Hal Trosky or Joe Vosmik. They are among the winners who were chosen on all but a handful of the hundreds of ballots cast. Some races were so close they weren't decided until the last few ballots had been counted. Several examples would be Nap Rucker over Mike Mitchell (N.L. 1907), Lefty Williams over Jim Bagby (A.L. 1916), Paul Dean over Curt Davis (N.L. 1934), Hoot Evers over Bob Dillinger (A.L. 1946) and Frank Shea over Sam Mele (A.L. 1947).
It is probably not surprising that pitchers won the award for almost half of the years surveyed- 23 in the N.L. and22 in the A. L. Their dominance was most pronounced in the era of the alleged "dead ball," with hurlers being selected 13 times in the N.L. and 14 in the A.L. between 1901 and 1919. Pitchers won the award in both leagues each year during the 1907-1912 period.
BY CONTRAST, Billy Sullivan of Boston, the
National League winner in 1900, was the only full-time catcher so honored. Rudy York, the A.L. winner in 1937, split his defensive duties between catcher and third base. Sullivan's win was accomplished against a small and mediocre field. The National League had reduced from twelve teams to eight in 1900, resulting in a scramble for jobs and limited opportunities for rookies.
The World War II year of 1944 arguably produced the American League's poorest rookie crop. Honors went to 39-year-old relief pitcher Joe Berry of the Philadelphia Athletics, who edged 35-year-old pitcher Sig Jakucki of the pennant-winning St. Louis Browns in a close race. However, without a doubt the weakest group ever were the National League rookies of 1919. In this postwar year the winner among three candidates was Cardinal relief pitcher Oscar Tuero, who had a 5-7 won-lost record.
Tuero had pitched 44'/3 innings for St. Louis in 1918 and thus barely qualified as a rookie in 1919. In 1920, after pitching only two-thirds of an inning, he was back in the minor leagues, where he continued to pitch until 1941, finishing with 269 minor league wins.
At the other extreme there were seasons in which many future greats came up to the big leagues together. Such a year was 1925 in the A.L. when future Hall of Famers Earle Combs, Mickey Cochrane and Lou Gehrig ranked 1-2-3 in the voting. Finishing seventh in that year's poll was the man who would go on to become the greatest lefthanded pitcher in the league's history - Lefty Grove. Another banner rookie year for the American League was 1929. Behind winner Dale Alexander were Wes Ferrell, Earl Averill, Bill Dickey and Roy Johnson in that order.
In the National League rookie race of 1902 the St. Louis Cardinals' trio of center fielder Homer Smoot, pitcher Mike O'Neill and left fielder George Barclay finished 1-2-3. This sweep was surpassed by the 1924 Pittsburgh Pirates, who had the top four finishers: Kiki Cuyler (if), Glenn Wright (ss), Emil Yde (p) and Ray Kremer (p). All four also had excellent sophomore seasons in helping the Pirates to the 1925 world championship.
The Cardinals led the N.L. in rookie-of-the-year selections for the 1900-1948 period with 11. The St. Louis club's domination was especially noticeable in the early 1940s. In 1941 Redbirds Ernie White (p), Frank Crespi (2b) and Howie Krist (p) finished 2-3-4 behind Cincinnati pitcher Elmer Riddle. In 1942 Cardinal pitcher
John Beazley was the winner, edging teammate Stan Musial. During the next three years the Cards had two winners - second basemen Lou Klein in 1943 and pitcher Ken Burkhart in 1945 - and one runner-up, pitcher Ted Wilks in 1944. These products of Branch Rickey's extensive farm system helped lead St. Louis to four pennants and three World Series titles between 1942 and 1946. Notable Cardinal winners from previous years included Rogers Hornsby, Dizzy and Paul Dean and Johnny Mize.
The Cubs, who were the only N.L. team to have the leading rookie in three consecutive years (1921-23), had ten winners in all. Brooklyn had nine and Pittsburgh eight, including the Waner brothers, Paul and Lloyd, who were the picks for 1926 and 1927, respectively.
FOLLOWING THE selection of Mathewson in 1901, the Giants did not have another winner until journeyman first baseman Babe Young was chosen in 1940. Pitcher Bill Voiselle, in 1944, was the only other Giant choice.
Cleveland (with eleven) and the Yankees (with ten) were the biggest winners in the A.L. for the pre-1949 period.
Although no American League team matched the "sweeps" of the 1902 Cardinals and the 1924 Pirates, the 1905 St. Louis Browns came close. In addition to the winner, left fielder George Stone, three other Browns finished third, fourth and sixth. In the closely contested race of 1946, Brownies Bob Dillinger (3b), Chuck Stevens (1b) and Cliff Fannin (p) rated 2-3-4 behind Hoot Evers of Detroit. In the previously mentioned 1925 A.L. race when Combs and Gehrig wound up first and third, another Yankee, outfielder Ben Paschal, finished fourth. The selections of Tony Lazzeri in 1926 and Wilcy Moore in 1927 gave the Yankees the distinction of being the only A.L. team to have winners in three consecutive seasons.
New York's domination of the American League that produced seven pennants and six world championships in eight years in 1936-1943 can be traced to an exceptional group of rookies that joined the club during that period.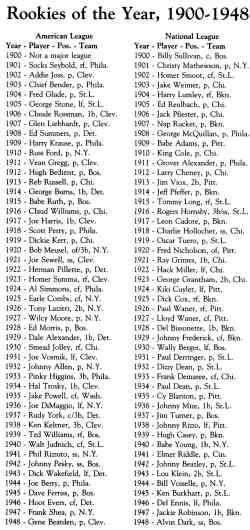 Joe DiMaggio was the runaway winner for 1936. The next year Tommy Henrich and Spud Chandler finished second and third. Joe Gordon was the runner-up in `38, as was Charlie Keller in `39. Atley Donald and Marius Russo also made their debuts that year, and Ernie Bonham did so in 1940. The next three years brought Phil Rizzuto, the winner in 1941, and runners-up Hank Borowy in 1942 and Billy Johnson in 1943.
In only 11 seasons in each league did the Rookie of the Year play for a pennant-winning team, and only in 1927, 1947 and 1948 did both World Series participants have their league's best rookies.