By Stan Grosshandler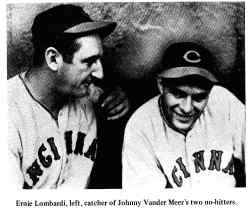 A pitcher who tosses a no-hitter receives instant acclaim and is assured of a lasting place in the record books. But what about the man behind the bat who skillfully called the pitches that silenced the opponents' bats?
One of the most famous of all sports photos shows Yogi Berra jumping on Don Larsen following the final out of the Yankee hurler's perfect game in the 1956 World Series. There is, however, no evidence of anyone congratulating Yogi for his part in calling the pitches in that memorable masterpiece. Yet all would agree that a catcher plays an important role in a pitcher's performance.
The all-time leader in catching no-hitters is Hall of Famer Ray Schalk. During his 17 years with the White Sox he handled four of them. Curiously, his involvement in no-hitters came in bunches. The first occurred on May 14, 1914 when he was behind the plate as Jim Scott held Washington hitless for nine innings, only to lose in the tenth frame, 1-0. Seventeen days later Schalk caught Joe Benz when he stopped Cleveland without a hit, 6-1.
In 1917 Schalk was involved in three no-hitters within a 23-day span, although in two instances he was on the wrong side. First he caught Ed Ciciotte in his 11-0 gem against the Browns in St. Louis on April 14. Three weeks later, on the White Sox' second trip to St. Louis, Cicotte and Schalk again formed the battery in a game against the Browns on May 5. This time they succumbed to the no-hit efforts of Ernie Koob, 1-0. The following day Benz and Schalk were on duty when Bob Groom of the Browns repeated Koob's hitless performance against the White Sox.
Following this flurry of no-hit activity, Schalk had to wait five years before being involved in another gem. And what a gem it was: Charley Robertson's 2-0 perfect game against Detroit on April 30, 1922.
Only two catchers-Jeff Torborg and Gus Triandos-have caught no-hitters in both leagues. Ironically, each has a perfect game to his credit.
While with the Dodgers, Torborg handled Sandy Koufax' no-man-reach-base masterpiece in 1965 and then caught Bill Singer's 1970 hitless effort. As a member of the Angels, Jeff was the receiver in the second of Nolan Ryan's 1973 no-hitters. Torborg thus holds the distinction of being the only man to be a working partner with the two no-hit record-holders, Koufax and Ryan.
Triandos also enjoyed a special distinction. He wore the mask and pads when Hoyt Wilhelm, the great relief specialist, tossed a no-hitter against the Yankees in 1958 in one of his infrequent starts. This was the first no-hitter pitched for the modern Baltimore Orioles. Triandos, who shares the AL record for homers by a catcher in a season (30) with Berra, belted one out of the park that day for the game's only run. And then in 1964 with the Phillies, Gus caught Jim Bunning during his perfect game versus the Mets.
Val Picinich, an 18-year veteran of the mask and mitt trade, is the only man to catch no-hitters for three different teams. Val handled Joe Bush's effort for the Philadelphia Athletics in 1916, Walter Johnson's only no-hitter for Washington in 1920, and the masterpiece that Howard Ehmke delivered for the 1923 Red Sox.
Another catcher with an unusual claim to no-hit fame is Lou Criger. Three pitchers have tossed no-hitters in both leagues-Cy Young, Tom Hughes and Bunning-and Criger was behind the bat in hitless efforts delivered by two of them.
He was Young's batterymate in his 1904 and 1908 masterpieces for the Red Sox and teamed with Hughes on the 1910 Yankees when Tom stopped Cleveland for nine innings, only to lose in the eleventh.
Several other practitioners of the "tools of ignorance" have been involved in three no-hitters. Bill Carrigan of the Red Sox caught the performances of Smokey Joe Wood in 1911 and George Foster and Hub Leonard in 1916.
Luke Sewell handled Wes Ferrell's effort for the 1931 Indians against the Browns. Wes' brother Rick was the St. Louis catcher that day. Four years later Sewell caught Vern Kennedy's no hitter for the White Sox and in 1937 he was the receiver in Bill Dietrich's game.
Jim Hegan was the man behind the bat in three Cleveland Indian 00-hitters. He caught Don Black, Bob Lemon and Bob Feller's third effort.
John Edwards worked in three hitless performances. In his first in 1965 he shared backstopping duties with Don Pavletich when Jim Maloney of the Reds tossed ten hitless innings before bowing to the Mets in 11 innings, 1-0. Two months later Edwards caught Maloney in his ten inning, 1-0 conquest of the Cubs. And with the Cardinals in 1968 John was the partner in Ray Washburn's gem.
Besides Larsen's World Series perfecto, Berra caught two other no-hitters-the pair tossed by Allie Reynolds in 1951. The second clinched the pennant for the Yankees.
Another Hall of Fame receiver, Roy Campanella, worked three no-hitters for the Brooklyn Dodgers. He was behind the plate in both of Carl Erskine's and teamed for another with Sal Maglie.
Del Crandall handled a trio delivered by Jim Wilson, Lou Burdette and Warren Spahn for the Milwaukee Braves. A sore arm deprived Crandall of a possible opportunity of catching a fourth no-hitter. Because of the ailment, Charley Lau was back of the bat when Spalin tossed his second no-hitter in as many years in 1961.
Wilson tells an interesting story about his 1954 gem against the Phillies.
"In the last inning with two out I had to face Puddin' Head
Jones, a real dangerous hitter," he recalls. "My best pitch was a
curve, so Del calls for it and Jones hits a screamer over third that
both of us thought was fair, but it was called foul. Well, now what
should Del call? He knows the curve is my best pitch and so does
Jones. Del calls for my fast ball, which really was not very fast.
Jones hits a grounder to Danny O'Connell at second, and all I
could think was that ball is going to hit a stone, bounce over his
head and I lose my no-hitter. Fortunately, it did not and I had a
no-hit game."
Crandall also helped Wilson that day by hitting a home run. Other catchers besides Crandall and Triandos who contributed homers to their pitcher's no-hit efforts were Frank Hayes, whose blast in the top of the ninth inning was the lone run the day Bob Feller pitched his no-hitter against the Yankees; Ernie Lombardi, who connected in the first of Johnny Vander Meer's pair; Campanella, who helped both Erskine and Maglie with distance pokes, and Paul Casanova, who delivered one in Phil Niekro's game.
Eight receivers have teamed with the same pitcher twice in no-hit performances. As was previously mentioned, Criger handled a pair by Young, while the Edwards-Maloney, Berra-Reynolds and Campanella-Erskine duos delivered a pair. Lombardi worked both of Vander Meer's, Nig Clarke handled two by Addie Joss (the second a perfect game), John Roseboro worked two of Koufax' masterpieces and Fran Healy was back of the bat in both of Steve Busby's efforts for Kansas City.
Several other catchers called the pitches in two no-hitters. Rollie Hemsley handled Bobo Newsom's with the 1934 Browns and Feller's 1940 opening-day masterpiece for Cleveland. In the latter Rollie tripled in the lone run of the game.
Smoky Burgess, the premier pinch-hitter, went all the way in Harvey Haddix' futile 12-inning perfecto for Pittsburgh in 1959 and also was back of the plate when Johnny Klippstein, Hershell Freeman and Joe Black combined for a ten-inning no-hitter for Cincinnati against Milwaukee in 1956, only to lose in the eleventh frame.
Art Wilson caught Jeff Tesreau for the New York Giants in 1912 and then Hippo Vaughn of the Cubs in the famous double no-hitter of 1917. Jim Pagliaroni was back of the bat for Bill Monbouquette of the Red Sox in 1962 and also when Catfish Hunter threw his perfect game for the 1968 Oakland A's.
Others to catch two no-hitters for different teams were Jose Azcue, John Bateman, Walker Cooper, Ray Fosse and Tim McCarver. Catchers with two no-hit games on the same club were Bill Bergen, Hank Gowdy, Randy Hundley, Ed McFarland, Buddy Rosar, Hank Severeid, Ted Simmons, Bob Tillman and Jack Warner.
Major league managers of 1979 who have caught no-hitters are Torborg, Herman Franks, Pat Corrales and Les Moss, who handled the bizzare Bobo Holloman effort with the St. Louis Browns.
Following is a list of catchers working no-hit games in the American
and National Leagues from 1901 through 1978:
AMERICAN LEAGUE
Baltimore Orioles-Gus Triandos `58; Larry Haney-Andy Etchebarren `67; Curt Blefary `68; Elrod Hendricks `69.
Boston Red Sox-Lou Criger `04, `08; Duke Farrell `04; Charlie Armbruster `05; Bill Carrigan `11, `16, `16; Sam Agnew-Pinch Thomas `17; Wally Schang `18; Val Picinich `23; Sam White `56; Bob Tiliman `62, `65; Jim Pagliaroni `62.
California Angels-Bob Rodgers `62; Jose Azcue `70; Jeff Torborg `73; Art Kusnyer `73;Tom Egan `74;Ellie Rodriguez `75.
Chicago White Sox-Ed McFarland `02, `05; Billy Sullivan `08; Bruno Block `11; Ray Schalk `14, `14, `17, `22; John Grabowski `26; Luke Sewell '35, `37; Sherman Lollar `57; J. C. Martin `67;Jim Essian `76.
Cleveland Indians-Bob Wood `01 ; Harry Bemis `08; Nig Clarke `08; `10; Steve O'Neill `19; Luke Sewell `31; Rollie Hemsley `40; Frank Hayes `46; Jim Hegan `47, `48, `51; Jose Azcue `66; John Ellis `74; Ray Fosse `77.
Detroit Tigers-Oscar Stanage `12; Joe Ginsberg `52; Matt Batts `52; Red Wilson `58.
Kansas City Royals-Frank Healy `73, `74; Darrell Porter `77.
Minnesota Twins-Earl Battey `62; Jerry Zimmerman `67.
New York Yankees-Lou Criger `10; Les Nunamaker `17; Fred Hoffmann `23;Joe Glenn `38;Yogi Berra `51, `51, `56.
Oakland A's-Jim Pagliaroni `68;Gene Tenace `70;Ray Fosse `75.
Philadelphia A's-Harry Barton `05; Ira Thomas `10; Val Picinich `16; Buddy Rosar `45, `47.
St. Louis Browns-Walter Alexander `12; Hank Severeid `17, `17; Rollie Hemsley `34; Les Moss `53.
Texas Rangers-Dick Billings `73; Jim Sundberg `77.
Washington Senators-Val Picinich `20; Roy Spencer `31.
NATIONAL LEAGUE
Atlanta Braves-Paul Casanova `73.
Boston Braves-Sam Brown `07; Hank Gowdy `14, `16; Phil Masi `44; Walker Cooper `50.
Brooklyn Dodgers - Lew Ritter `06; Bill Bergen `06, `08;Hank DeBerry `25; Herman Franks `40; Ferrell Anderson `46; Bruce Edwards `48; Roy Campanella `52, `56, `56.
Chicago Cubs-Johnny Kling `04; Jimmy Archer `15; Art Wilson `17; Clyde McCullough `55; Del Rice `60; Bill Heath-Gene Oliver `69; Dan Breeden `71 ; Randy Hundley `72, `72.
Cincinnati Reds-Emil Huhn `17; Bill Rarjden `19; Ernie Lombardi `38, 38, Ray Mueller `44; Ray Lamanno `47; Smoky Burgess `56; John Edwards-Don Pavletich `65; John Edwards `65; Pat Corrales `68; Jolmny Bench `69; Don Werner `78.
Houston Astros-John Bateman `63; Jerry Grote `64; Dave Adlesh `67; Don Bryant 69, Ed Herrmann 76.
Los Angeles Dodgers-John Roseboro `62, `63; Doug Camilli `64; Torborg `65, `70.
Milwaukee Braves-Del Crandall `54, `60, `60; Charley Lau `61.
Montreal Expos-John Bateman `69; Tim McCarver `72.
New York Giants-Jack Warner `01, `02; Frank Bowerman `05; Roger Bresnahan `08; George Schlei `09; Art Wilson `12; Chief Meyers `15; Earl Smith, `22;Bob O'Farrell `29.
Philadelphia Phillies-Chief Zimmer `03; Red Doom `06; Gus Triandos `64;Tim McCarver `71.
Pittsburgh Pirates-George Gibson `07; Ed Fitz Gerald `51; Smoky Burgess `59; Manny Sanguilen `69;Jerry May `70;Duffy Dyer `76.
St. Louis Cardinals-Mike Gonzalez `24; Bill Delancey `34; Walker Cooper `41;John Edwards `68;Ted Simmons `71, `78.
San Francisco Giants-Ed Bailey `63; Dick Dietz `68; Dave Rader `75;
Gary Alexander `76.