2013 SABR Asian Baseball Committee Meeting
Written by Bill Staples, Jr. and Daigo Fujiwara
Thursday, 25 July 2013 00:00
2013 SABR Asian Baseball Committee Meeting (Teleconference/Webinar) was held on Wednesday July 24, 2013 at 9 pm EST (8 pm Central, 7 pm Mountain, 6 pm AZ/Pacific). Hosted by SABR ABC Chair Bill Staples, Jr. Many members of the Asian Baseball Committee was unable to attend the SABR's Annual National Convention in Philadelphia. So in lieu of an onsite meeting the committee held its first webinar/ teleconference prior to the conference. We had SABR members from California, Indiana, Massachusetts, Arizona, Pennsylvania, Japan and Korea participate. We hope to keep holding those on-line meetings going forward.
Last Updated on Thursday, 22 August 2013 00:03
Check out Asian Baseball Community in facebook
Written by Daigo Fujiwara
Tuesday, 11 December 2012 10:54
Do you use facebook?
If so, be sure to "Like" the Asian Baseball Community (facebook.com/asianbaseball), a publicly open extention of the SABR Asian Baseball Committee.
We try to post interesting news and topics that we see on the web, and if you have something that you'd like to contribute, please email Daigo Fujiwara (ABC vice-chair) at daigo@japaneseballplayers.com
Last Updated on Wednesday, 21 August 2013 23:03
December 2012 SABR ABC newsletter is available
Written by Bill Staples Jr.
Monday, 10 December 2012 18:14
**New Asian Baseball Committee Newsletter? Now Available**

Fellow members of the SABR Asian Baseball Committee (ABC), the latest newsletter is now available online.

Direct PDF link:
https://sabr.box.com/shared/static/urgrwrtzmc5j7ztt0acf.pdf

OR

ABC newsletter archive:
http://sabr.org/research/asian-baseball-research-committee-newsletters

In this issue:
- How Japanese closers fared in the Majors
- WBC 2013: Top Five National Teams to Watch
- Chan Ho Park Retires as All-Time Winningest Asian-Born Pitcher
- Summary: Top 10 Asian-Born Pitchers of All Time (Chan Ho Park Special Edition)
- Banzai Babe Ruth Finalist for 2012 Casey Award for Best Baseball Book of the Year
- Book Review: Barnstorming Hawaiian Travelers
- Detailed Reports: Top 10 Asian-Born Pitchers of All Time (Chan Ho Park Special Edition)
Enjoy! And have a great holiday season.

Sincerely,

Bill Staples, Jr.
SABR Asian Baseball Committee, Chair
NINE conference in Tempe, Arizona: March 7-10, 2012
Written by Daigo Fujiwara
Tuesday, 24 January 2012 09:10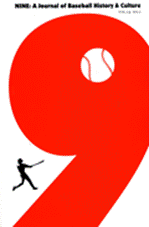 Members and friends of the Asian Baseball Committee (ABC), the leadership of the ABC encourages you to attend the NINE conference in Tempe, Arizona: Wednesday, March 7 to Saturday, March 10, 2012.
The NINE Spring Training Conference is an annual event, hosted by NINE: A Journal of Baseball History & Culture. The journal and the conference seek to promote the study of all historical aspects of baseball andcenter on the cultural implications of the game wherever in the world baseball is played. This year's keynote speaker is Rob Fitts, Japanese Baseball historian, author, and former ABC committee chair. Fitts is leveraging the conference to launch his new book Banzai Babe Ruth: Baseball, Espionage, and Assassination during the 1934 Tour of Japan. Others speaking at the conference is author and historian Bill Staples, Jr., current ABC committee chair, who wrote Kenichi Zenimura, Japanese American Baseball Pioneer. In our recent ABC member survey, many of you expressed an interest in attending an Asian Baseball conference. This is a ideal opportunity to add an Asian Baseball influence to an already great event and to network with our Asian Baseball peers. Conference registration is $205 and includes morning and evening sessions, two Cactus League games, and the Saturday evening banquet. SABR's Seymour Medal award for the best book of baseball history published last year will be presented during Saturday's banquet.
To learn more about conference registration and hotel reservations for the NINE conference, visit: http:// www.nineregistration.com.
Hope to see you in March 2012 in Tempe, Arizona!
Last Updated on Tuesday, 11 December 2012 10:53