December 2012 SABR ABC newsletter is available
Written by Bill Staples Jr.
Monday, 10 December 2012 18:14
**New Asian Baseball Committee Newsletter? Now Available**

Fellow members of the SABR Asian Baseball Committee (ABC), the latest newsletter is now available online.

Direct PDF link:
https://sabr.box.com/shared/static/urgrwrtzmc5j7ztt0acf.pdf

OR

ABC newsletter archive:
http://sabr.org/research/asian-baseball-research-committee-newsletters

In this issue:
- How Japanese closers fared in the Majors
- WBC 2013: Top Five National Teams to Watch
- Chan Ho Park Retires as All-Time Winningest Asian-Born Pitcher
- Summary: Top 10 Asian-Born Pitchers of All Time (Chan Ho Park Special Edition)
- Banzai Babe Ruth Finalist for 2012 Casey Award for Best Baseball Book of the Year
- Book Review: Barnstorming Hawaiian Travelers
- Detailed Reports: Top 10 Asian-Born Pitchers of All Time (Chan Ho Park Special Edition)
Enjoy! And have a great holiday season.

Sincerely,

Bill Staples, Jr.
SABR Asian Baseball Committee, Chair
NINE conference in Tempe, Arizona: March 7-10, 2012
Written by Daigo Fujiwara
Tuesday, 24 January 2012 09:10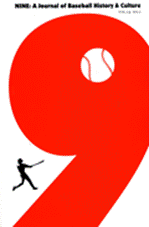 Members and friends of the Asian Baseball Committee (ABC), the leadership of the ABC encourages you to attend the NINE conference in Tempe, Arizona: Wednesday, March 7 to Saturday, March 10, 2012.
The NINE Spring Training Conference is an annual event, hosted by NINE: A Journal of Baseball History & Culture. The journal and the conference seek to promote the study of all historical aspects of baseball andcenter on the cultural implications of the game wherever in the world baseball is played. This year's keynote speaker is Rob Fitts, Japanese Baseball historian, author, and former ABC committee chair. Fitts is leveraging the conference to launch his new book Banzai Babe Ruth: Baseball, Espionage, and Assassination during the 1934 Tour of Japan. Others speaking at the conference is author and historian Bill Staples, Jr., current ABC committee chair, who wrote Kenichi Zenimura, Japanese American Baseball Pioneer. In our recent ABC member survey, many of you expressed an interest in attending an Asian Baseball conference. This is a ideal opportunity to add an Asian Baseball influence to an already great event and to network with our Asian Baseball peers. Conference registration is $205 and includes morning and evening sessions, two Cactus League games, and the Saturday evening banquet. SABR's Seymour Medal award for the best book of baseball history published last year will be presented during Saturday's banquet.
To learn more about conference registration and hotel reservations for the NINE conference, visit: http:// www.nineregistration.com.
Hope to see you in March 2012 in Tempe, Arizona!
Last Updated on Tuesday, 11 December 2012 10:53
Newsletter is out, January 2012
Written by Bill Staples Jr.
Thursday, 19 January 2012 17:23
Asian Baseball Committee January 2012 newsletter is out. And you can download or view it below. To see a larger version, go to this link.
In this issue:
2012 NINE Conference Welcomes Asian Baseball Aficionados
New ABC Website Features
The History of Japan's Posting Process
Research Highlights:sabr.org/asianbb
- Players in both MLB & NPB
- Baseball in China, Timeline
Sweet 16: Orioles' Chen Inspired by Hideo Nomo
ABC 2011 Survey Results Summary
Research Highlight: "Young Japan Takes to Baseball" (1927)
Arizona Park Honors Japanese American Baseball
Appendices
Last Updated on Tuesday, 11 December 2012 10:53
Welcome to the Asian Baseball Committee's new website
Written by Staples, Jr. & Daigo Fujiwara
Saturday, 16 July 2011 00:00
Welcome to the website of SABR's Asian Baseball Committee (ABC). The goals of the committee are to:
Research, preserve and share the long history of interaction between American and Asian baseball

Foster a sense of community among those with a shared passion for Asian Baseball
Introduce Asian baseball to the North American public
Serve as a valuable resource for those seeking more information about Asian Baseball
It is our sincere hope that the information and activities offered by the Asian Baseball Committee will achieve the above goals.
If you are a current member of SABR and interested in joining the Asian Baseball Committee, you can do so by visiting the SABRnation community.
If you are not a member of SABR, you can still get involved as a member of the Asian Baseball Community on Facebook.
To become a member of SABR, click here to join.
If you are a member of the media and seeking information about any aspect of Asian Baseball, please contact:
Bill Staples, Jr., Chair
Daigo Fujiwara, Vice-Chair
Last Updated on Saturday, 16 July 2011 23:14